Global business leaders pledge to 'reject exploitative economic models and take the side of common good'
The 'B For Good Leaders Summit' took place on June 16-17 in Rome with the world's most influential corporate leaders in the attendance. Begüm Doğan Faralyalı, Chairwoman of Doğan Holding, was among the panelists in the first iteration of the summit that saw global business leaders voice important commitments. "For a better, sustainable world, we must all embrace the principle of one planet, one world, one humanity. And this transformation necessitates sincere leadership," said Faralyalı.
Held in Rome on June 16-17, the 'B For Good Leaders Summit' brought together 650 prominent businesspeople, lawyers, politicians, academics and activists from across the globe for a better economy, better future and better world. The summit was organized by the 'Business for Good' movement, which was founded by NOW Partner founder, entrepreneur-economist Marcello Palazzi and B Lab Europe founding partner, entrepreneur-author Leen Zevenbergen. In the summit, business leaders who influence global economy discussed potential solutions for eliminating poverty, protecting our planet and ensuring peace and prosperity for all humanity. Begüm Doğan Faralyalı, Chairwoman of Doğan Holding, took part in the closing session of the summit alongside Paul Polman and Emmanuel Faber.
"FOR A BETTER, SUSTAINABLE WORLD, WE MUST ALL EMBRACE THE PRINCIPLE OF ONE PLANET, ONE WORLD, ONE HUMMITY. AND THIS TRANSFORMATION NECESSITATES SINCERE LEADERSHIP."
Paul Polman, the CEO of Unilever from 2009 to 2019 and 'the most successful CEO of the last decade' according to Financial Times, and Emmanuel Faber, Chairman of the ISSB (International Sustainability Standards Board) and Astanor Venture partner accompanied Begüm Doğan Faralyalı on the summit's closing panel. Faralyalı, who is a businesswoman, entrepreneur, change leader, philanthropist and sustainability advocate, founder of "Common Values Movement" and value-oriented community volunteer ambassador, said: "My experiences have taught me, time and time again, the importance of values and culture. We must embrace and uphold the principle of one planet, one world, one humanity and work for the good of the many if we are to overcome all of the economic, social and environmental crises that are plaguing the world today. We have no choice but to unite our minds and hearts, focus on common objectives, and work for the good of all. This is the only way for a better, sustainable world."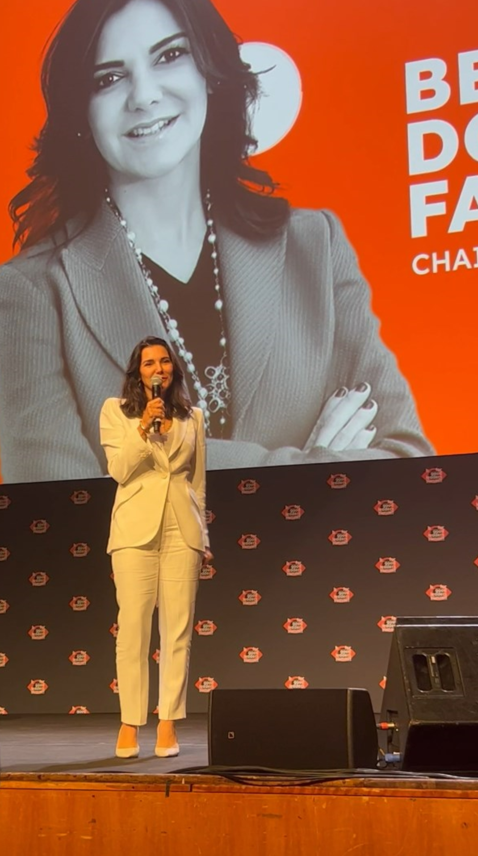 Faralyalı also noted the importance of leadership, "To turn this into the norm, we need 'sincere leaders'. We need sincere, inside-and-out leadership. We need brave leaders who have completed their own transformation, who are aware of and embrace their own values, who can unit their heart and their mind, who are as wise as they are knowledgeable, and who listen. And without a doubt, we need more women leaders than ever, in all aspects of life. We are living in a male-dominated world, and I don't think any of us is happy with where we are today."
Begüm Doğan Faralyalı asserted that the principle of 'one planet, one world, one humanity' must be embraced by all to overcome these hard times. "For everyone's sake, we must act with united hearts and minds towards a common objective. There are no other solutions," she added.
The definition of leader is changing
Centered around the five main themes; Leadership, Regenerative Economy, Corporate Activism, Sustainable Finance and B Corps (corporations focusing on social and ecological benefit), the B for Good Leaders Summit stressed the importance of values and corporate culture, the need for new leadership, mutual commitment, the importance of solidarity, and the urgency of sustainability.
B For Good Leaders Summit defines the purpose of its existence as 'to facilitate a restorative economic transformation that will create lasting and shared prosperity for all', and the organization believes that this is only possible through a restorative leadership model that is capable of creating net positive social, environmental and economic value. For this purpose, at the end of the conference, B For Good Leaders have issued a declaration, pledging their commitment to 1- Understand that we are all inextricably connected to ensure the continuation of life on Earth and we need to support one another, 2- As the bare minimum, take into account the next generation in all business decisions, 3- Measure what is important in order to integrate systemic value generation into the definition of profit, 4- Challenge exploitative economic models and take the side of common good, and 5- Utilize finance as a catalyst to transition from short-term business perspectives to long-term shared values.